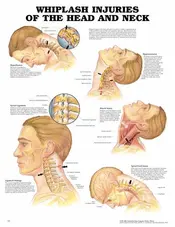 Ouch!! You've hurt your neck and/or back in a motor-vehicle accident. You are experiencing neck pain, headache, fatigue, muscle spasms, even back pain, shoulder pain, leg pain, all depending on what happened in the accident. It may hurt just holding your head up! You may be experiencing a Whiplash Associated Disorder (WAD). WAD may include any of the above mentioned conditions. Chiropractors are trained in the assessment, diagnosis and treatment of WAD. Treatment follows established clinical guidelines and protocols.
You may visit Dr. Keyes directly and no medical referral is required. There is also no upfront fee to pay. Your car insurance company will provide you with all of the necessary documents. In most cases, if you come in within 30 days of your accident, coverage is automatic according to the "Pre-Approved Framework", established by the Ontario Insurance commission.
Please contact Keyes To Health by phone or email using the link at the bottom of the page. We will gladly set an appointment time for you to be seen at your earliest convenience.
To Learn more about motor vehicle accidents and the effect on your health please click here.